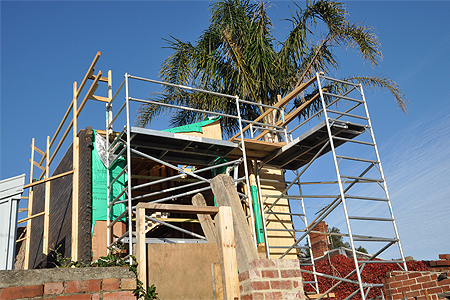 copper cloaked terrace
May 11th, 2017
Framing is complete to this two storey extension to a Victorian single fronted terrace house in North Carlton and cladding has commenced with earthy terracotta toned dry pressed bricks in tandem with recycled bricks forming the external walling. The roof is populated by a myriad of rooflights and lanterns, later to be clad in copper, that draw daylight inside to cascade through the house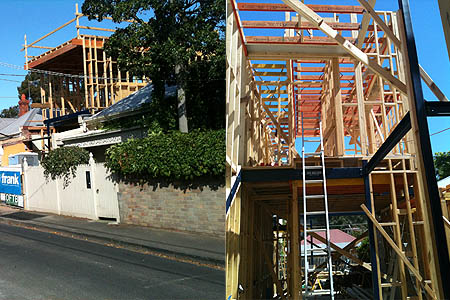 prahran labyrinth
March 29th, 2017
This new two storey single fronted terrace house in Prahran is taking shape with the framing nearing completion. Roofing and cladding will commence shortly. The house is characterised by an exciting spatial complexity and level of detail which will be complimented by a garage with car stacker, roof gardens, a gym and pool with a swim jet
yarra valley retreat
November 26th, 2016
This new house, currently being clad, is perched across the brow of a hill and presents as a single storey structure to the street, but it is only when one moves through the landscape and into the house that the spectacular views across the verdant valley of the yarra are revealed. Beneath that view and part way down the hill, a pool and deck is being constructed as an island, reached by bridges from the home's al fresco spaces and creating a landscaped chasm in-between. Living spaces occupy the front gallery seats with bedrooms in the stalls, but all with distinctive and uniquely particular aspects of the theatre of rolling clouds and picturesque landscape that is the yarra valley.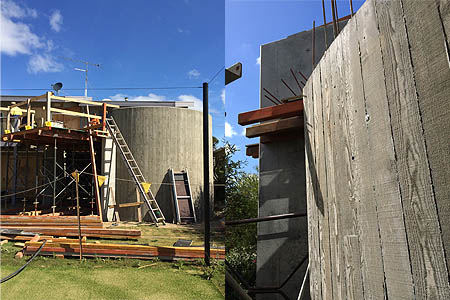 in-situ concrete walls are revealed!
November 3rd, 2016
This project has dramatically taken shape with the recent removal of the formwork from the concrete curvilinear walls forming a retreat extension to a family holiday house in Anglesea. The timber grain is becoming more pronounced as the concrete ages providing rustic articulation in contrast to the smooth shutter form of the blade walls. Next the roof slab is to be poured which will provide for a roof top deck and hanging garden.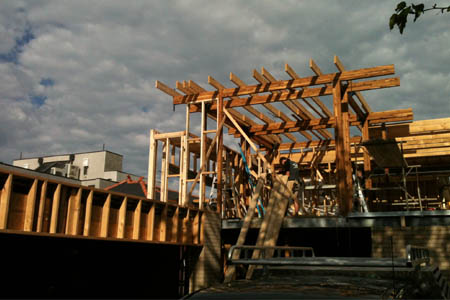 windsor eyrie
October 25th, 2016
The framework of this new townhouse in cosmopolitan Windsor is taking place with the first floor living spaces rising gently above its context providing a myriad of glimpses across the adjacent rooftops. Once complete, the house will include a three car garage, three bedrooms at ground floor level with a diversity of spaces at first floor level culminating in a living room eyrie with terrace.