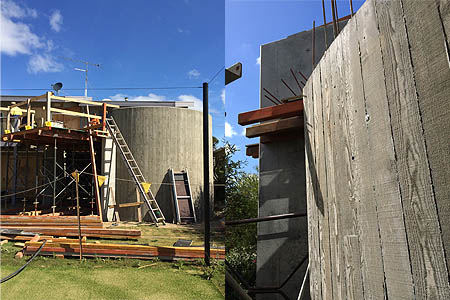 in-situ concrete walls are revealed!
November 3rd, 2016
This project has dramatically taken shape with the recent removal of the formwork from the concrete curvilinear walls forming a retreat extension to a family holiday house in Anglesea. The timber grain is becoming more pronounced as the concrete ages providing rustic articulation in contrast to the smooth shutter form of the blade walls. Next the roof slab is to be poured which will provide for a roof top deck and hanging garden.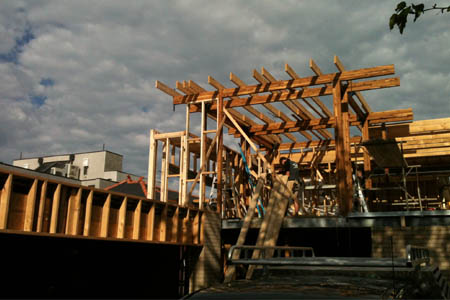 windsor eyrie
October 25th, 2016
The framework of this new townhouse in cosmopolitan Windsor is taking place with the first floor living spaces rising gently above its context providing a myriad of glimpses across the adjacent rooftops. Once complete, the house will include a three car garage, three bedrooms at ground floor level with a diversity of spaces at first floor level culminating in a living room eyrie with terrace.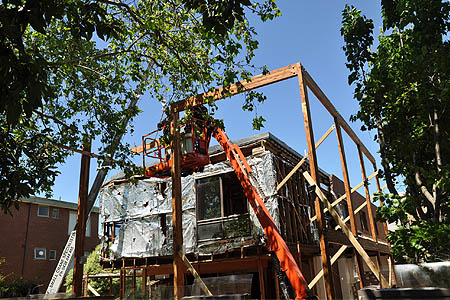 palazzo chiericati
October 25th, 2016
The laminated cypress beams and columns have been lifted and bolted into place to form the exoskeleton framework of an extension to this house in Hawthorn East. As with Andrea Palladio's mid-sixteenth century palace, the extension will transform the front façade in addition to accommodating more generous living and sleeping areas to the house. Once fully craned into position, the exoskeleton will be infilled but remain fully visible.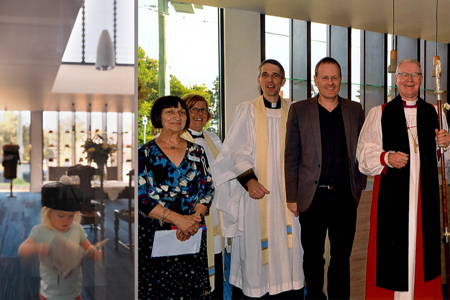 breath of fresh air
March 3rd, 2016
The new opportunity shop at St.Eanswythes Anglican Church in Altona has now been completed and was opened and dedicated on the 2nd March by the Archbishop of Melbourne, the Most Reverend Dr. Philip Freier, before opening for its first sales to the public. The louvred clerestory window demonstrated its environmental credentials by naturally lighting the space and capturing Altona's sea breeze to cool the packed congregation on a warm autumnal evening. The new building provides a fresh face for St.Eanswythes and a permanent home for the opportunity shop which has been operating out of the adjacent parish hall for many years. The project was made possible by the generous bequest of former parishioner, Linda Court.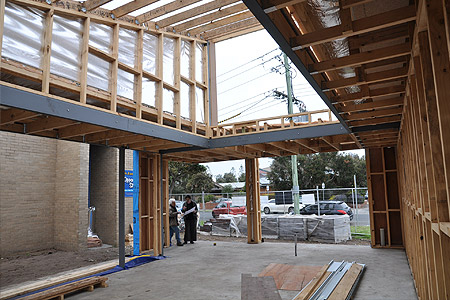 opportunity
August 25th, 2015
The framing of the new Linda Court Building for St.Eanswythe's, Altona is complete with articulated brickwork now commencing. The building will form a long awaited permanent home for St.Eanswythe's opportunity shop which has been running now for 25 years in a variety of locations. The new building stands physically apart from the church generating a courtyard space between the two, while its skillion dominated form creates a morphological rapport with the existing buildings. The new structure will house a valuable service to the local community and further animate the local urban centre.