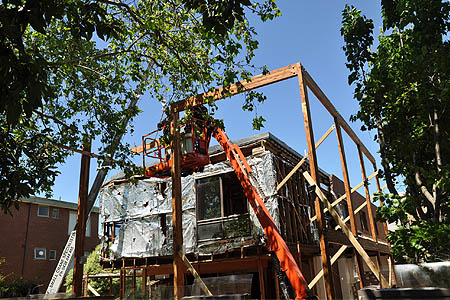 palazzo chiericati
October 25th, 2016
The laminated cypress beams and columns have been lifted and bolted into place to form the exoskeleton framework of an extension to this house in Hawthorn East. As with Andrea Palladio's mid-sixteenth century palace, the extension will transform the front façade in addition to accommodating more generous living and sleeping areas to the house. Once fully craned into position, the exoskeleton will be infilled but remain fully visible.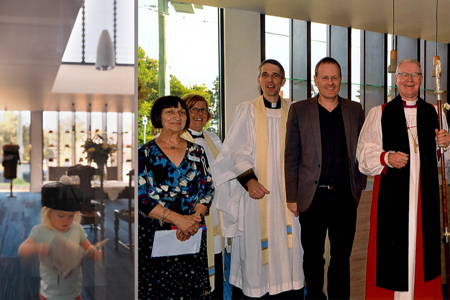 breath of fresh air
March 3rd, 2016
The new opportunity shop at St.Eanswythes Anglican Church in Altona has now been completed and was opened and dedicated on the 2nd March by the Archbishop of Melbourne, the Most Reverend Dr. Philip Freier, before opening for its first sales to the public. The louvred clerestory window demonstrated its environmental credentials by naturally lighting the space and capturing Altona's sea breeze to cool the packed congregation on a warm autumnal evening. The new building provides a fresh face for St.Eanswythes and a permanent home for the opportunity shop which has been operating out of the adjacent parish hall for many years. The project was made possible by the generous bequest of former parishioner, Linda Court.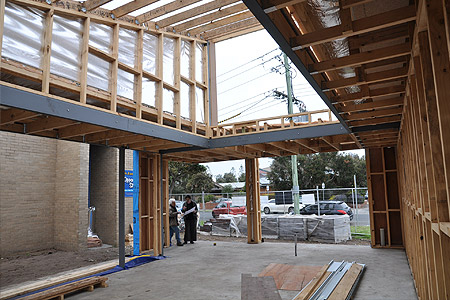 opportunity
August 25th, 2015
The framing of the new Linda Court Building for St.Eanswythe's, Altona is complete with articulated brickwork now commencing. The building will form a long awaited permanent home for St.Eanswythe's opportunity shop which has been running now for 25 years in a variety of locations. The new building stands physically apart from the church generating a courtyard space between the two, while its skillion dominated form creates a morphological rapport with the existing buildings. The new structure will house a valuable service to the local community and further animate the local urban centre.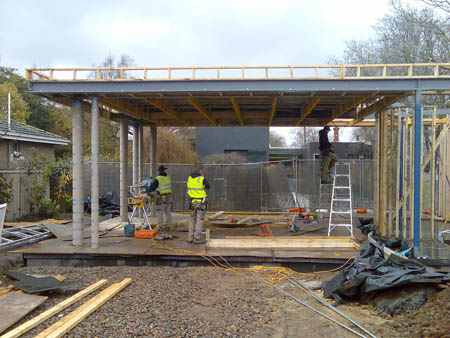 floating canopy
August 13th, 2015
The Newington pool pavilion's broad steel framed canopy has been erected, supported on polished stainless steel columns at one end and on a kitchenette pod to the other, above a burnished charcoal concrete slab. Timber studwork is now infilling the steel framing which will be clad in black aluminium and alaskan cedar in preparation for a summer opening.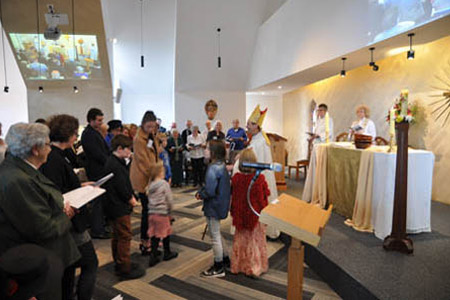 consecration of St.Margaret's
May 9th, 2015
Bishop Philip Huggins consecrated the extended worship space and refurbished mudbrick parish hall at St.Margaret's Eltham. The consecration service was attended by a large congregation which filled both the polychromatic 1861 church and its new extension, as well as spilling out into the overflow capacity of the new foyer. The service was a great celebration of the blessing of resources and skills that enabled the successful design, management and execution of this project on a very sensitive site with specific Heritage Victoria statutory planning controls as well as Nillumbik City Council landscape restrictions.